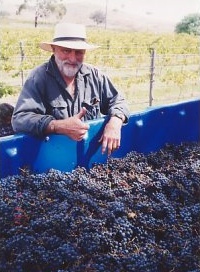 About Us
We are a boutique winery run and owned by a family passionate about organics. At Broombee you can sample our Award winning wines, olive oils, olives and tree ripened fruit.
Broombee wines are only made from estate grown grapes which travel 100m to the winery near the cellar door to be crafted into our premium certified organic wines. When visiting the cellar door you will speak to the winemaker or viticulturist.
Visit in summer for delicious peaches, nectarines, apricots etc picked in the cool of the morning. Children are often given the opportunity to pick a piece of fruit straight from the tree, an experience they will remember.
Enjoy the atmosphere of an cellar door filled with historical items of Australian life in the bush. We also have a resident blacksmith who's work is on display and you might even catch her at the forge.
At the cellar door you will meet the Corner family who are happy to answer any of your questions about Organics, wine making or the beautiful Mudgee region.
---
Great grapes to fine wines - TASTEFULLY ORGANIC
We were very proud and gratified that our 2004 Cabernet Sauvignon was judged as one of only three in the unbottled class, Mudgee 2004 Wine Show to receive gold medal points from Show Judge Huon Hooke and will be included in the special MUDGEE GOLD Magnum which will be available after being aged in Oak and will show case the best Mudgee has to offer.
Barrie and Gwen, after many years of interest in organics became certified with Australian Certified Organics formerly BFA. Broombee Orchard and Vineyard had previously been managed bio-dynamically so it has a long chemical free history and is soil and tissue tested and audited regularly to guarantee consumers of its product integrity.
Taste award winning certified ORGANIC WINES which are not only grown but also made organically on the estate so that we have total control from vineyard to the bottle. Our awards have been won in Open Classes and not restricted to organic.
Broombee Organic Orchard and Vineyard uses only organic methods, the old fashioned way. The Blackface Suffolk Maintenance team are responsible for weed control and manure spreading.
Broombee Organic Stone Fruit is tree ripened for quality and fabulous flavour with over 20 varieties of peaches, also cherries, apricots, plums, sugar plums, nectarines available from late November to February and our regulars come from all over NSW, like bees to the honeypot for the large juicy true fruit.